Welcome back to the Lee baby boom! With a few kids born, I feel that a household status is now warranted:
Jason (daddy)
Krysten (mommy)
Bernard (boy #1)
Brylee (girl #1)
Let's kick things off with our first aspiration reward. As far as I know this is the only way to keep Sims from growing old in Sims 2, besides becoming a vampire. ¯\_(ツ)_/¯
And you get an aspiration reward!
Bernard learns potty training while under the influence of smart milk.
Jason became the designated cook of the house, and, therefore, did a lot of tasting of his own cooking, and gained a few pounds. He usually stocks up on his days off and in his freetime, and while Krysten is pregnant she usually has two helpings because pregnancy hunger depletes so quickly. Well, pregnancy needs in general deplete really quickly.
I'm also skilling him up so that he can make cheesecake for twins, which he needs level 7 cooking skill for.
Bernard got his walking skill completed while under the influence.
Talking skill is also completed, but this one was all him.
Could it be? Yes, yes it could.
Wow, you're really going in with the yoga. That's a very difficult move, I must say.
Oh. Don't try this move on your first attempt at yoga, people.
Jason loses the weight with a very freaky animation.
Jason: "I may have broken my neck, but it was worth it, right?!"
You look and sound crazy right now. Wait, I'm talking to a Sim…
Jason makes friends with a passer-by. We're totally not just using you for the friend requirement at work, no-siree.
Brylee's birthday time! Yeah, I had the same issue here as I did with Bernard, so she gets a cake.
Pregnancy bump #1.
Promotion!!!
Bernard has his child birthday.
Many hands, much w o w.
Pregnancy bump #2.
Krysten: "Well? You're staring."
Ready for cheesecake?
Krysten: "You know how much my *ahem* parts have been through already without twins."
Don't worry, I have a mod that makes cheesecake only a 50% chance! It's no guarantee of twins!
Krysten: "Uh-huh."
Well, uh, congrats to Jason for getting his cooking skill up!
Krysten: "Mm-hmm."
Krysten gets Brylee started on her toddler skills.
Brylee wished to learn a nursery rhyme, but she was definitely being a little butt about it.
It took forever, but her want is fulfilled.
Bernard: "Watch me, Dad!"
Bernard: "I learned some yoga, too!"
Jason: "You took to that really quickly!" *inwardly seething*
Labor time!
Wow I am just shocked right now I could never have predicted this.
Krysten: "You practically force-fed me that cheesecake."
Ah, I see you haven't repressed that memory.
The babies are twin girls. The older is Baylie with a personality of 7/9/2/10/1. She's neat, very outgoing, very lazy, very playful, and very grouchy. She's one for the extremes.
In coming up with B names, I decided to take inspiration from my job at a doggie daycare and name the kids after some of the dogs there who have B names. Baylie is named after a yorkshire terrier who looks something like this: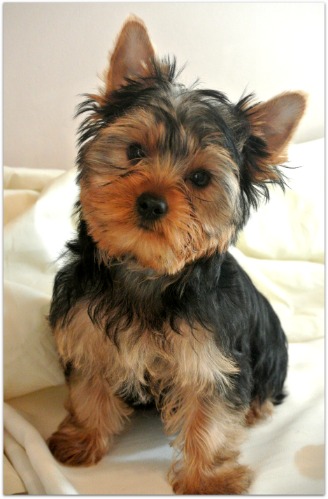 The younger twin is Bonnie, so named because I wanted her to also have a name ending in -ie. Her personality is 5/5/9/7/6. Sloppy/neat neutral, shy/outgoing neutral, very active, playful, and nice.
Unfortunately the stress of pregnancy and labor causes Krysten to go into aspiration failure. She gets a visit from the therapist.
Jason, who was trying to help the babies out of the corner, unwittingly gets himself trapped by the therapist.
Don't worry, we got Krysten up and running soon enough, and she even became best friends with Brylee!